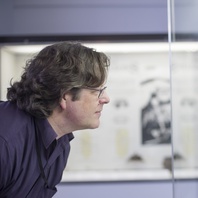 Roderick Dale
Project Coordinator at Faculty of Arts and Education, University of Stavanger (formerly Cultural Engagement Fellow, University of Nottingham)
I graduated from the University of Newcastle upon Tyne with a BA(Hons) in Scandinavian Studies (Norwegian) in 1985 before beginning a career as an archaeologist.
While working as an archaeologist I completed an MA in Viking and Anglo-Saxon Studies (2001) and a PhD in Viking Studies (2014) at the University of Nottingham. My doctoral thesis, entitled Berserkir: A re-examination of the phenomenon in literature and life, reassessed research into Viking berserkir and studied how that research had been shaped by modern, popular culture depictions of berserkir.
While at Nottingham I taught Old English in the 'Beginnings of English' and 'Medieval Englishes' modules and Norse mythology on the module 'Ice and Fire: Myths and Heroes of the North'.
From 2016-17 I worked at University College Cork as post-doctoral researcher on The World-Tree Project (www.worldtreeproject.org), a large-scale community collection database in the field of Old Norse-Icelandic and Viking Studies, funded by an IRC 'New-Horizons' Starter Grant.
I joined the University of Nottingham in February 2017 as Cultural Engagement Fellow for the Bringing Vikings back to the East Midlands project.
In March 2020, I joined the University of Stavanger as project coordinator for the environmental humanities team, working mainly on the Horizon 2020 project 'EnviroCitizen: Citizen Science for Environmental Citizenship'.
Expertise Summary
Old Norse language and literature, interdisciplinary Viking studies, reception of the Vikings in popular culture, public engagement.
Recent Publications
BIRKETT, T and DALE, R, (eds) 2019. The Vikings Reimagined: Reception, Recovery, Engagement Kalamazoo : Medieval Institute Publications.
DALE, R, 2019, 'From Barbarian to Brand: The Vikings as a marketing tool', in The Vikings Reimagined: Reception, Recovery, Engagement, edited by Tom Birkett and Roderick Dale Kalamazoo: Medieval Institute Publications.
Contact Information